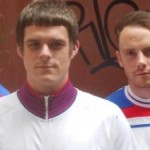 Casual Sneaker
Neil Primett, Produzent der Dokumentation "Casuals: The Story of the Legendary Terrace Fashion (2011), gibt hier eine Einführung in den "Casual Style".
Warum eigentlich Björn Borg, warum Fila, Adidas, Tacchini und der ganze andere Shit.
Die Kurve, the Kop war der Geburtsort des Casual und seiner Mode.
"…ein riesiges Furcht einflößendes Monster, das langsam seine Muskeln spielen ließ.
Wie in Dantes "Göttlicher Komödie" waberten konzentrische Wellen um ein Epizentrum
reiner Energie. Wer dort stehen wollte, musste verdammt fit, motiviert, trinksicher und
vor allem pünktlich sein. Mindestens eine Stunde vor Anpfiff hatte sich einzufinden, wer
im Herzen des Kop stehen und sich mit dem harten Kern langsam einsingen wollte."
Just watch and learn.